| | |
| --- | --- |
| | Our Services |




The Dry Cleaners
123 Main Street
Anytown, NY 20317
USA
(212) 555-4321
(212) 555-1234 fax

Send Us

E-mail

© Copyright 2011
The Dry Cleaners
powered by Website2Go.com
All Rights Reserved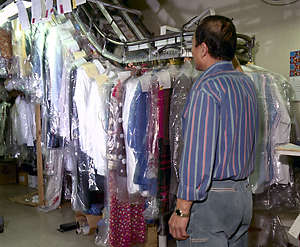 The Dry Cleaners is a high quality, service-oriented dry cleaning establishment, specializing in delicate and fragile fabrics, and garment restoration. We are technologically advanced in stain removal and bleaching, combining years of expertise with state of the art equipment.

$7.55 for Men's Or Women's Suits
$3.65 for Trousers
$3.25 for Sweaters
$3.95 for Blouses
$3.65 for Skirts
$3.95 for Blazers
$1.50 for Laundered Shirts
$8.00 for Ladies Dresses
$8.00 for Long Coats Including Rain Coats
$2.25 for Neckties

Call (212) 555-4321 or fax (212) 555-1234 for prices on special orders or unusual cleaning jobs!





Why the Dry Cleaners works for you:

We pick up from your home or office.
You get quality work done by a cleaner that's been in business over 20 years.
You don't have to be home for Pick-Up or Delivery, just put your clothes in our Laundry Bag and place outside your front door.
You get our Monthly Statement Itemized showing exactly what you had cleaned for the entire month.
Corporate discounts are available.